12 Great Holiday Gift Ideas for 2020
Cost Control Associates' Annual Gift Shopping Guide
Each year the analysts at Cost Control Associates go shopping to create our annual list of holiday gift ideas. Because 2020 has been unlike any other year, we've put together a varied list that touches on some of the past year's hot topics. (Production and shipping delays have been an extra element of 2020, so please be patient about delivery times.)
SAFETY
React 7-in-1 Charger and Safety Tool: The 7-in-1 emergency tool will keep your family safe during any unexpected situation, from being stranded roadside to being trapped inside your vehicle. It is a razor-sharp seatbelt cutter, steel-tipped window breaker, lightning fast USB charger, portable power bank, ultrabright LED flashlight, strobing SOS beacon and long-range safety siren. ($50,with price breaks when you buy multiples)
Solar Hat with Light: You won't get surprised by an early sunset, when you wear this solar-powered ball cap with its built-in head lamp. Just keep it in the sunlight during the day, and it will get you through nighttime dog walks and other activities safely. You get two hours of full power on a single charge. With the dimmer control, the light will last all night, and there's a boost mode for when you need that extra bit of shine. ($30)

Home Haircutting Kit: If you don't feel safe going to the barbershop or can't get an appointment in time for the holidays, the ConairMAN cordless rotary hair-cutting kit is the perfect solution. Ultra-sharp circular blades cut in any direction, and guide-combs make sure you don't shift lengths mid-cut. The rechargeable cutter includes guide combs, barber comb, oil, scissors, neck brush and storage pouch. ($40)
 WORKING FROM HOME
Pocket-sized Universal Device Stand:
Another clever holiday gift idea is the only device stand you will ever need, the GoDonut is a portable, universal stand for phones and tablets. Just set your phone or tablet into the grooves to enjoy various angles of hands-free viewability. Makes it easier to follow recipes or exercise classes, binge watch your favorite shows or participate in a holiday Zoom call. You can even put it on your car's dashboard. It fits in your pocket or purse, too. ($25, with deals for buying multiples)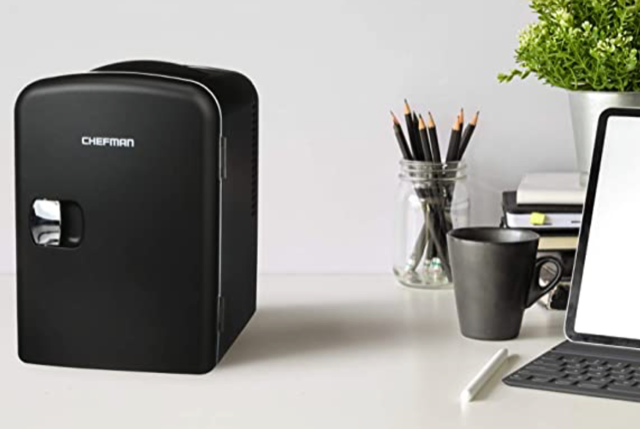 Mini Portable Fridge: Whether you want warm snacks near your desk or cold drinks on a car trip, this mini fridge does the job. Its four-liter capacity is perfect for a six-pack of cans or a few baby bottles. A removable shelf helps create compartments for other needs. It is 100% freon-free and plugs into a standard outlet or a 12-volt car charger. It comes in black, blue, pink or white! ($40)
MoMA Octagon Portable Desk Light: From the Museum of Modern Art Design Store, this eye-catching and practical lamp is wireless and rechargeable. Use the octagonal base to position it at one of three different angles. The touch-sensitive LED light has four levels of brightness. The built-in, 3.7-volt rechargeable battery provides up to 48 hours of continuous light after charging via USB port. It is 15 inches long and available in wood finish or white. ($85)
Mini Coffeemaker: The mini Keurig coffee-maker is less than five inches wide, so it fits anywhere. The removable drip tray accommodates taller travel mugs, and an auto-off feature turns it off 90 seconds after your last brew. To avoid the waste of plastic K-cups, you can use a universal reusable coffee filter instead and fill it with your favorite ground coffee. ($80)
Cat Entertainment Station: Can't keep your cat from walking across your keyboard during a Zoom call? This battery-operated string-flinging machine will keep your cat entertained, but you may want to keep it out of view, or you'll be laughing uncontrollably during your next work meeting. Perfect for cats of all ages and no assembly required. ($30, be sure to watch the product video—it's hysterical!)
SCIENCE
50-foot Solar Balloon: You'll need some sunshine to make this toy a joy. This fun black solar balloon teaches kids about the Bernoulli Principle and Pascal's Law when the air inside heats up from the sun causing it to float into the sky. ($20)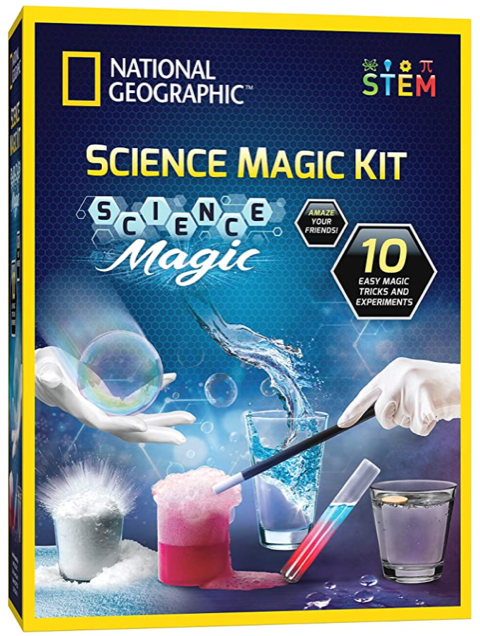 Magic Chemistry Set: Elementary-age children will enjoy learning about science as they perform ten amazing magic tricks. The National Geographic Magic Chemistry Kit includes a magic wand and white gloves so your little magician or scientist can dress the part. There are illustrated kid-friendly instructions and all the tools you need to do each experiment. ($15)
Wooden Treasure Box Kit: You won't be bored when you make your own secret treasure box. The finished product will keep your prized possessions safe. This 3D wooden puzzle mechanical gear kit consists of 123 pre-cut small wooden pieces. The whole family can get in on the project, but you set your own three-digit number passcode, so no one else can get inside! ($33)
LOOKING FORWARD TO 2021
Wooden Clock Kit: What better way to ring out the old and ring in the new 2021 than with this unique wooden pendulum clock that will tell you when 2020 is over. From the same company that made the treasure box above, you can assemble this unique clock and watch the old year fade away. There are 166 pre-cut small wooden pieces, so your work will be cut out for you. It's the building challenge that will be a conversation piece forever after. ($50)
Lisa Miller is marketing and communications manager for Cost Control Associates. She joined Cost Control Associates in 2015, bringing more than 25 years of experience in marketing and corporate communications to her position. Lisa earned her BA from Skidmore College. Learn more.