Environmental building standards took a big step forward at the Clinton Global Initiative meeting when Delos, a U.S.-based real estate developer, introduced the WELL Building Standard in 2012. It may not be easy being green, but it brings a lot of great benefits. Keep reading for five things you should know about WELL.

WELL and LEED work together.
The WELL Building Standard works hand in hand with the LEED green building program. It even awards certification at the familiar levels of platinum, gold and silver. While LEED certification targets a building's environmental performance and sustainable design, WELL focuses on the health and well-being of the building's occupants through architecture and design.
The WELL Building Standard is the result of research, development and collaboration with a board of researchers and doctors from Columbia University Medical School, along with architects, engineers and contractors. It is the world's first building standard focused exclusively on occupant health and wellness.
Healthy employees get more done.
The Global Wellness Institute estimates that ailing workers cost the world's economy 10-15% in output. The U.S. has the largest wellness market in the world with employers spending $14.4 billion annually. Since most Americans receive healthcare insurance through their employers, it's not surprising that businesses are motivated to decrease costs and increase productivity.
It has been estimated that most people spend 90% of their time indoors. That means the quality of the air we breathe inside may have more of an impact on our health than the air we breathe outside. With increased risks of chronic disease and the rising cost of healthcare, it makes sense for organizations to encourage and promote healthy lifestyles for employees.

The Standard incorporates 7 elements.
The WELL Building Standard focuses on seven categories of measurement: air, water, nourishment, light, fitness, comfort and mind. To meet WELL certification, a building must meet all seven standards. WELL buildings often employ natural lighting, improved ventilation, filtered water stations and open floor plans that encourage residents to move and collaborate freely.
Office spaces offer sit-and-stand desks and laptops that allow employees to change their position by moving to a shared casual space with comfortable seating or a rooftop garden. Employees are encouraged to exercise and eat well, too. Readily visible staircases, safe bicycle storage, proximity to parks and paths, a kitchen stocked with healthy food options, and locker rooms with showers all lead to healthier behaviors.

The project portfolio is growing.
To date, more than 530 projects comprising 100 million square feet have applied the WELL standards.
Take a glimpse at these selected projects:
New York, NY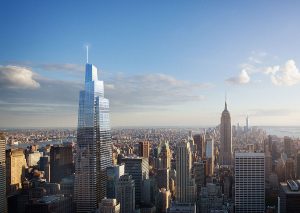 The Manhattan skyline has had a few additions in recent years, and at least one of them is a certified WELL building. One Vanderbilt Avenue in Manhattan's East Midtown business district is 1,401 feet high with 1.7 million gross square feet of commercial space. Its architecture and building materials pay tribute to Grand Central Station and the surrounding business district. One Vanderbilt features column-free floors, extraordinary ceiling heights, forward-looking infrastructure and unrivaled tenant amenities including a fine dining restaurant. The building attained the highest levels of sustainable and wellness design in New York City.
San Francisco, CA
BCCI Construction Company, a California-based general contracting firm, prides itself on its commitment to green building and the WELL Building Standard. Its own headquarters offer an open work environment with quiet spaces, phone rooms and a wellness room. Having met both LEED and WELL certification, it was constructed with healthy building materials, large windows and natural-element accents plus many health-related amenities. Employees are encouraged to hold meetings outdoors in an adjacent park or enjoy the lounge or patio while taking in waterfront views.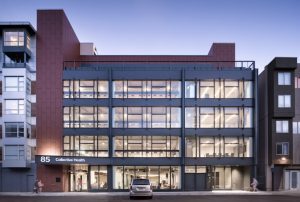 The firm promotes the WELL standard to its customers, too, and recently completed construction of a new office building at 85 Bluxome Street in the South of Market neighborhood of San Francisco. Built according to WELL standards, tenants have access to secure indoor bike storage, showers and changing rooms. There is a shared roof deck as well as a private terrace for the fifth floor only. It was the first ground-up building to get WELL certification in California.
Los Angeles, California
With the opening of CBRE Group's global corporate headquarters in 2013, CBRE became the first company in the world to achieve WELL certification for a commercial office space. As part of a strategic alliance with Delos, CBRE is also a founding member of the Well Living Lab, which is the worlds' first human-centered research lab designed to study the interaction between the indoor environment and human health and well-being.
CBRE headquarters was designed to reduce absenteeism while improving productivity through sharpened focus, increased creativity, and speed and accuracy. Planners focused on indoor air quality, lighting, water quality, visual acuity, physical comfort, acoustics and psychological impacts within the work environment. The building features air filtration systems, sound-damping walls, VOC-free paints, water purification, ergonomic desks and chairs, biophilic plantings, energy-absorbing flooring and smart lighting systems.
Pittsburgh, Pennsylvania

The Center for Sustainable Landscapes is the first institution worldwide to achieve WELL Platinum Pilot Certification. The 24,350-square-foot research, education and administration facility is closely associated with the Phipps Conservatory and Botanical Garden, a historic landmark in Pittsburgh. Since the Center studies the connection between human and ecological health, the project design needed to be sensitive to nature in addition to meeting the highest standards for occupants and visitors.
Built on a remediated brownfield site, the building is positioned to make maximum use of natural daylight. All regularly occupied spaces are within 15 feet of windows that not only open and close but afford generous views of nature. (Occupants receive automated emails telling them when conditions are right to open or close the windows.) A 30-foot drop in elevation from the existing campus to the lower level allows for a green roof adjacent to terraces. Energy is produced by wind and solar sources, and there is an electricity meter at each desk to encourage energy-saving behavior. Breathing-zone air ventilation rates are 55% above generally accepted standards, and 100% of the total building area uses natural ventilation for a portion of the year. (Photo by Denmarsh Photography)

WELL has only just begun.
The WELL Building Standard is still in its infancy, so there is not yet enough data to prove its positive influence on productivity. It seems logical to conclude that offering occupants a beautiful, modern space, with the convenience and pleasures of WELL-related amenities, would improve employee and tenant retention while boosting healthy behaviors and good morale. Building owners certainly benefit from the extra rent they can charge as well as the marketing exposure, bragging rights and attraction a WELL-certified building elicits.
To learn more about the WELL Building Standard, you can take an introductory course through the U.S. Green Building Council or visit the International WELL Building Institute.
Now read about how American sports teams are saving energy, water, and materials without changing the fan experience.
We'll send our monthly blog directly to your inbox! Subscribe here.
Keith Laake founded Cost Control Associates, Inc. in 1991 and has been responsible for strategic planning, marketing and sales, and overall management of the firm. He currently focuses on business development. Keith received his BBA from the University of Wisconsin and is a certified public accountant. Learn more.